The Annual Ladies Board Rummage Sale—For Volunteers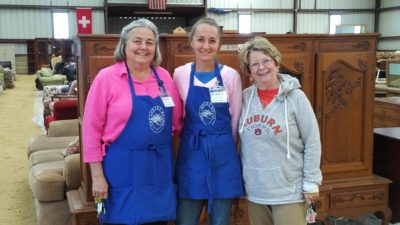 If you've never volunteered and experienced the camaraderie of this fundraising effort, we'd love to have you join us! To volunteer, please email RummageLadies@gmail.com or call 703-771-2985.
While we work nearly year-round on the Sale, the big need for your help is during the set-up and sale days which are affectionately known as "Rummage Week." Rummage Week starts on Monday, October 14, 2019 and continues through tear-down on Sunday, October 20, 2019. Won't you consider joining us?
Sign up early to secure the department of your choice. If you have been recruited by a department manager or another volunteer, you may already know where you would like to work. However, if that department is fully staffed, we may ask your help in another area.
Please check in at the Registration Desk on your first day of volunteering. You'll need to provide basic contact information and then you'll receive a name badge and a volunteer apron to use during Rummage Week. On your last day, please return the volunteer apron with the name badge attached.
Lunch is available at a nominal cost of $5.00 per meal or, on most days, it may be complimentary, thanks to our generous sponsors. It's critical to re-charge before heading back to the barns.
One of the benefits of being a volunteer is the opportunity to shop before the rush of Saturday's crowds. Eligible volunteers can shop for a brief 2 hours period on Friday afternoon; there is a 10% surcharge to the already low prices since the eligible volunteer will have first choice of the treasures. This is a vital point of credibility with the community we serve. To be eligible to participate, a volunteer must work a minimum of 24 hours (three full days). Those who serve less time will NOT be eligible, but we truly appreciate their efforts just the same.
Thank you for considering the donation of your valuable time. And a very special thanks to the dedicated volunteers who return each year to make the Sale such an overwhelming success for our hospital and our community.