The Ladies Board Rummage Sale—For Volunteers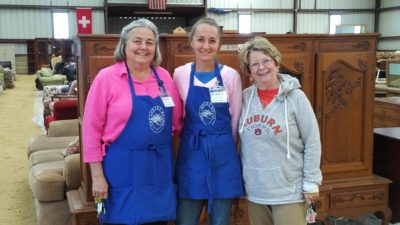 For all the excitement that The Sale brings, the "real fun" for our volunteers begins on Monday, October 15, the "kick off" for the 80th Annual Ladies Board Rummage Sale. And it's almost here! Once again the event will be held at Morven Park Equestrian Center, 41580 Sunday Morning Lane, Leesburg, Virginia.
If you've never volunteered and experienced the camaraderie of this fundraising effort, please join us for one or several days. To volunteer, please email RummageLadies@gmail.com or call 703-771-2985. A Ladies Board member will return your call as early as possible. Sign up early to secure the department of your choice. If you have been recruited by a department manager or another volunteer, you may already know where you want to work. However, if that department is fully staffed, we may ask for your help in another area. There are always departments in need of more volunteers.
When you arrive for your first day of volunteering, please check in at the Registration Desk. We will ask for basic contact information, provide you with a name badge and a copy of volunteer rules, then loan you a worker apron.
Lunch is available at a nominal cost of $5.00 per meal. Relax and rejuvenate before heading back to the sorting area or your department. The lunch menu is posted daily at the registration desk and the café. Most days there is a table brimming with dessert home-made by members of The Ladies Board.
This event would not be possible without the incredible commitment of our army of volunteers. After gathering donations for months from all corners of Loudoun County, the drive culminates when nearly 500 volunteers descend on Morven Park during Rummage Week to unpack, sort and display roughly the equivalent of 16 tractor trailers full of surprises.
On Monday, the vacant expanse of the Equestrian Center barns, arena and party tents comes alive as volunteers set up tables, sort truckloads of clothes, furniture, housewares, toys, books, antiques and so on. It is a hub of organized chaos!
By Tuesday, department managers and their teams begin to organize their areas, displaying and pricing, all while the yeoman work of the sorters continues. Each works to ensure that the shopping experience will be the best yet!
On Wednesday and Thursday, there are whispers of, "I think there's more stuff this year than ever before!" But donation trucks and trailers continue to arrive with even more treasure and volunteers hustle to maintain the pace.
By Friday, everyone is excited for the next great sale to begin. Final touches are applied! We are ready!
One of the benefits of being a volunteer is the opportunity to shop before the rush of Saturday's crowds. Shopping takes place between 1 and 3 on Friday afternoon; there is a 10% surcharge to the already low prices since the eligible volunteer will have first choice of the treasures. This is a vital point of credibility with the community we serve. To be eligible to participate, a volunteer must serve a minimum of 24 hours (three full days). Those who serve less time will NOT be eligible, but we truly appreciate their efforts just the same.
Saturday and Sunday are exhilarating! The arenas, barns and tents become a sea of shopping enthusiasts coming from multiple states to enjoy the madness and the deals. We love it and we think you will too. We can guarantee that this is not a black-tie fundraiser. It's a "grab your sneakers and make a mad dash for it" kind of event.
Thank you for considering the donation of your valuable time. And a very special thanks to the dedicated volunteers who return year after year to make The Sale such an overwhelming success for our hospital and our community.