Rummage Sale Donations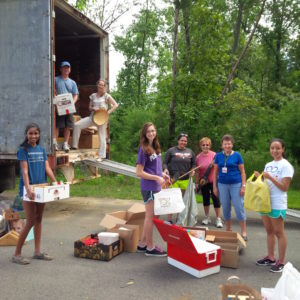 Donations for the 81stAnnual Rummage Sale are accepted by appointment beginning in early Spring 2019.
Please review the current Donation Guidelines. We reserve the right to decline any donation which is in poor condition, unsanitary, broken or otherwise unacceptable. Thank you for understanding.
If you need a pickup or have furniture to donate, please know that we will begin collections in early Spring 2019. Please download the Rummage Sale Donation Form and email to the RummageLadies@gmail.com. We do our best to respond promptly to your call at 703-771-2985 or email at RummageLadies@gmail.com.
Please identify your community when you leave us a message. This will allow us to connect you more quickly with the best person.
You can always drop off items by appointment. Or just bring your donations by on one of these DONATION DAYS which will be announced soon.
Drop off locations will be at BOTH the Cornwall Street INOVA hospital campus in Leesburg and INOVA at Lansdowne. Please help us to keep the collection sites tidy by NOT leaving items outside the trailers.
As you organize your donations, please remember to pack breakable items carefully in boxes that are then sealed. Clothing can be packed in plastic bags and tied shut. It is important that all items are clean and ready for someone to buy and use. For safety as well as the convenience of shoppers, please note carefully items that cannot be accepted. We truly appreciate your support and understanding.
All calls and emails will be responded to in a timely manner. For special donations, arrangements can be made to have someone meet you at the locked storage trailers.
In the meantime, visit us on Facebook!